My ambition is to offer inspiring classes and workshops. You do not need any previous knowledge, to be especially cleaver or artistic to participate in my classes.
If you have a group of interested people and a suitable lodge I will bring my material and come for a day or more according to your wish.
Felting
Felting is an old method to make a tight form or piece of cloth out of carded wool. It is easy to learn and in half an hour or so you have a self-composed small product. I use washed wool from ecological sheep- farmers. You are welcome as a beginner aswell as somewhat advanced felter. If you haven't felted before the basics are easily learned and there are many ways to expand the knowledge.
I have felted for many years, almost daily and I still feel I have much to learn. If you like you can use your new knowledge too inspire others, maybe as a school teacher or as a hobby. The workshop contents basic theory, some historical facts and information. You learn to master the basic moments in felting and you will leave the class with some selfmade products.
If you already master the basics you can let me know your special wishes.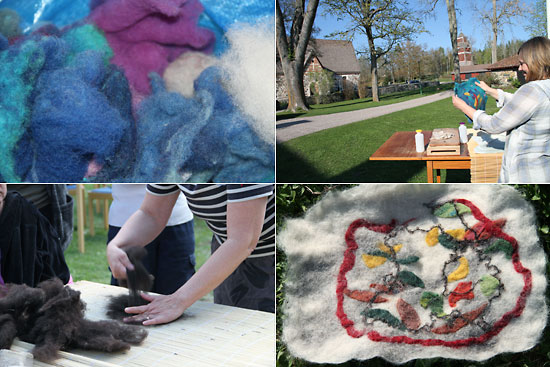 Embroidery
To work with embroidery is to fill a piece of fabric with color and shape. I mix different types of fabrics and threads and I find it interesting to create my own stitches.
I try to teach artistic freedom and inspire everyone to use their your own fantasy. I have differnt ideas on how to make you "get going" if you don´t know how to begin. You do not need to know how to embroider, you can come as a beginner. I have all the materials you need in my atelier and it´s nice and relaxing to embroider.
If you belong to a group and have a place to meet I can bring my material and come to you.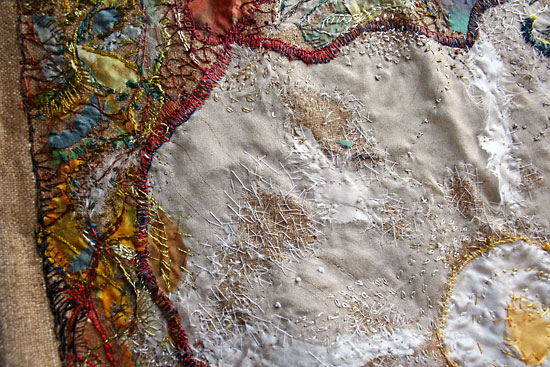 Art therapy
As well as we have our own voice, our own handwriting and body-language we also have our own imagery. It´s interesting to learn more about oneself through our imagery. We "catch eye" on ourselves. If we get in contact with our fantasy, which often lies hidden in our childhood, new possibilities opens.
I offer art-therapy in self-experience- concept. I use basic materials and basic methods. It is not art school and you don´t have to know how to paint. The main thing is that you have a wish to learn more about yourself.
I work both with groups and individually.